CATEGORIES
Latest news
Contact us
ADD: No.4 Building , No.1500, Kongjiang Road,Yangpu District,200093,Shanghai,China Skype: motor.machinery
TEL: 86-21-58992293
FAX: 86-21-58992292
E-mail: sales@motor-machinery.com

> Motor machinery for Stator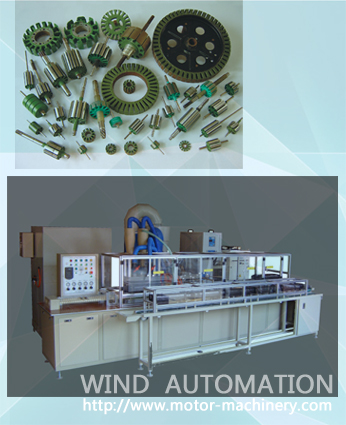 Electrostatic powder coating machine for auto
Product description: Electrostatic coating machine has full coverage auto motor such as small armature wiper motor, rolling window motor, oil pump motor, a table, a chair adjusting motor, EPS motor, ESP motor, starter mot
PRODUCT INTRODUCTION
Electrostatic coating machine Main feature
It is the most technical advanced product in electrostatic coating field, which is widely used in mini rotor insulating coating, such like automotive, motorcycle, toy and small electromotor of household appliances.
This series coating machine has full coverage auto motor such as wiper motor, rolling window motor, oil pump motor, a table, a chair adjusting motor, EPS motor, ESP motor, starter motor, etc.), motorcycle motor, electric motor, electric tools, rotary variable control motor, a mechanical servo motor and DC motor.

Armature Electrostatic coating machine Work process
1. Manually assembly the rotor to fixture and put onto the screw rod
2. High frequency de-oiling
3. Strong air cooling
4. Manually carry the rotor to the screw rod of powder coating machine.
5. Electrostatic powder coating
6. Cleaning the fixture and rotors
7. High frequency curing
8. Strong air cooling
9. Manually unloading the rotor
Armature powder coating Machine specification
1) De-oiling machine (drying and cooling machine)
2) Powder coating machine body
3) Powder heating part...
4) Powder recycling system

Electrostatic Power coating machine Parameter
A) Rotors transmission speed: 0.1-1.5m/min
B) Productivity as per table in I
C) Curing mode high frequency curing on line
D) Coating thickness adjust within 0.15-0.5mm (subject to the powder property)
A) one type rotor 10 pieces fixture supplied with machine for commission.
B) Energy
1) Power: 60KW 380V 50Hz
2) Compressed air: 1.5m3/min, 0.6MPa (after purification handling of freezing and drying)
3) Normal tap water
Electrostatic powder coating is a traditional insulation technology for automobile motor manufactures. As the rapid development of automotive car industry and increasing demand of micro motor such as home appliances electric motor, motorcycle motor, power tools motor, electrical toys, automotive appliances.
All over the world, the amount and quality demand of motor is increasing, motor armature/rotor slot insulation is becoming important.
An efficient way for mass production of rotor end and grooves isolation is the electrostatic powder resin coating which improve the insulation reliability and service life of small motor.
As we know, temperature rising is one important factor for reducing motor insulation performance and isolation loosing.
When choosing the insulation structure, the material's heat resistance, thermal conductivity and insulation shall be considered at the same time.
For the enameled magnetic cooper wire or aluminum wire used to form conductor or windings of motors, as the temperature rises, the wire's outer insulator becomes soft and its shear strength is lost, at that situation, if it is extruded or squeezed by other objects under high temperature, the the insulation may undergo plastic deformation and even more worse the exposed conductor can be short-circuited.
When the temperature exceeds the thermal rating of the insulator for a long time, the insulation degradation will lead to excessive degradation. As a result, for the electric motor with poor ventilation and heat dissipation such as car window lifer, steering wheel assist motor/electrical power steering (EPS), wiper motor, seat adjustment motor, they require good heat-resistant insulating material and production process.
With the improvement of electrostatic powder coating technology, the mainstream micro motor manufacturers had started to use epoxy powder as the insulating material of motor armature rotor in large quantities mass production.
The electrostatic powder manufacturers such as Akzo Nobel, 3M, Sumitomo produce high quality powder resin which have stable insulation, high temperature resistant, easy to use, can be applied to muti-surface of amatue/rotor by electrostatic powder coating machine.
Contact:Shanghai Wind Automation Equipment Co.,Ltd
Email: emily@motor-machinery.com
Skype: motor.machinery
Mobile: +86-17721374887
Website: http://www.statorwindingmachine.com; http://www.coilswinding.com