In small and medium-sized AC motor that require a higher starting torque such as air compressors, air compressors, conditioner compressor,refrigerator, high-speed motors, electric spindle motor, or energy efficient motors,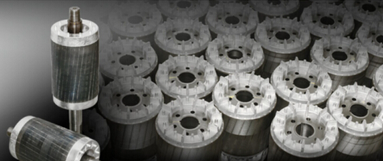 Their quality of the rotor after aluminum should be known before turning and shaft insertion.
The rotor of an induction motor is like the secondary winding of a transformer, with the motor stator being the primary winding. Also rotor is a conductor of motor.
There are usually three ways to test the rotor quality of a induction motor,
1. Current meter
The principle of the current meter similar as the principle of the transformer, there is coils in the V type core, when the put on alternating current to the coil, the coil loop must produce current. At this time in the put on the rotor to V core, and manually rotate the rotor,the core of magnetic loop is changed, for a OK and normal rotor the current of the circuit are changed in a certain range.but for a NG rotor rotate with broken bar the loop current vibration increase, so from the swing of the current meter, we can detect the rotor quality in a rough way.
This testing method is easy and cheap, but not with efficiency for rotor mass production.
2. Magnetic particle method
Produce an electromagnet, the magnetic pole is a platform, which is used to put the rotor to be detected. Power the electromagnetic, so the rotor on the platform with magnetic.
Rotate the rotor, spread the magnetic powder on the rotor, If the rotor bar is normal, it can suck the magnet powder in the outer circle of the rotor bar.
if there is a broken bar, then the number of absorbed magnetic powder is reduced, through the concept to determine whether the number of magnetic powder determine whether there is an abnormal rotor.
Movement of the conductor in the magnetic field to do the movement of cutting magnetic lines of force, both ends of the conductor will have induced electromotive force, the closed conductor will produce induced current. If the magnetic field, the speed of the conductor movement and other external conditions remain unchanged.
The body of the induced current size is also directly dependent on the conductor itself has an induced current will inevitably produce an induced electric field, the device's sensor to collect changes in induced current, the sensor signal is processed in the form of waveform display on the screen, the rotor test The instrument depicts the rotor in the magnetic field reflects the situation, directly reflects the rotor bar resistance and other parameters.