CATEGORIES
Latest news
Contact us
ADD: No.4 Building , No.1500, Kongjiang Road,Yangpu District,200093,Shanghai,China Skype: motor.machinery
TEL: 86-21-58992293
FAX: 86-21-58992292
E-mail: sales@motor-machinery.com

> Automobile starter armature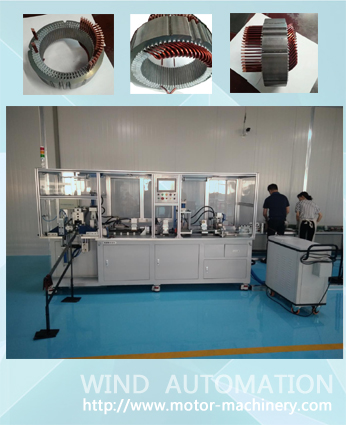 Aircraft areo flat wire hairpin forming shape the generator conductor wire forming bending machine WIND-AWF
Car Hairpin
Flat Wire hairpin
Product description: Starter armature hairpin forming machine automatic wire straighten alignment, peel enamel(enamel stripping),loading,cutting and hairpin forming shaping, unloading.Produce hairpin coils winding for the
PRODUCT INTRODUCTION
WIND-AWF Automobile armature starter generator hairpin forming round coil winding forming machine
Advantages:
1. Cycle time Around 3s/pc,
2. Mitsubishi PLC, Weinview touch screen,Airtac cylinder and valve,Schneider Electrical components
Application:
Form wire starter motor, oil pump motor armature round copper wire production,
automatic wire straighten alignment, peel enamel(enamel stripping),loading,cutting and hairpin forming shaping, unloading.Produce hairpin coils winding for the starter armature
Specification
Voltage: 380V
Presure: Min 0.5Mpa
Wire diameter 3mm*8mm
Wire feeding length: 0~250mm
Efficiency: 2.3s/pc
Power: 500W
Weight: around 3520KGS
Packages:
2140*1130*2400mm=5.82
2100*1130*2230mm=5.29
1260*600*1300mm=0.98
2080*1000*1400mm=2.9


Configuration:

1. Mitsubishi PLC, WEINVEIW 10-inch touch screen,
2.Taiwan HIWIN linear guide and module, Delta servo motor line. Line length adjustment
3. Taiwan Nicholas precision planetary reducer.
4. Taiwan AIRTAC pneumatic parts and solenoid valves,
5. Schneider Electric components, Mingwei switch power supply.
6. Welding rack, surface spray, color: gray. Taiwan plate grinding, plating.
7. The whole part of the aluminum frame frame, three-color signal indicator.
8. The mold part of the mold steel vacuum quenching treatment.
9. To paint part of the use of hydraulic punching method, punching part of the position adjustment device adjustment screw, automatic vacuum.
10. Cut off part of the use of cylinder punching.
11. Bending U-shaped part of the use of cylinder punching.
12. 150L hydraulic system set.
13. 3KW automatic vacuum cleaner set.
14. A set of automatic discharge machine.
Video:
Contact:emily@motor-machinery.com
Skype: motor.machinery
Mobile: +86-17721374887
Website: http://www.motor-machinery.com; http://www.coilswinding.com