CATEGORIES
Latest news
Contact us
ADD: No.4 Building , No.1500, Kongjiang Road,Yangpu District,200093,Shanghai,China Skype: motor.machinery
TEL: 86-21-58992293
FAX: 86-21-58992292
E-mail: sales@motor-machinery.com

> Motor machinery for Rotor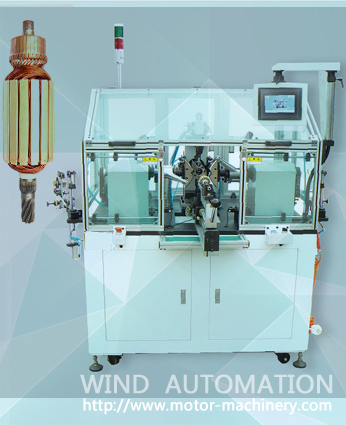 Armature winder for slot type commutator Vacuum cleaners hammers power tool WIND-ST-TD2B
Slot type armature winder
Wire diameter: 0.20~1.2mm
Product description: Vacuum cleaners hammers power tool Armature winder for slot type commutator,
PRODUCT INTRODUCTION
Slot type commutator armature winding machine WIND-ST-TD2B Advantages:
1. Slot type armature with thin, thick wire machine can handle,
Machine had good feedback of winding a 0.25mm wire diameter armature
2. Have good adaption for slot type commutator with groove,
No need to work with special designated slot machine
3. Got good feedback in wide application from customers
4. 98% yield rate above assured when the slot commutator quality is good
5. Till now it is the best machine in China for winding slot type armature
Video:
Slotted Armature Winding machine features
Lap winding with double flyer wire gauge range

Usually

0.20~1.2mm, Max machine handled

1.35mm (about AWG16)

Armature commutator type

Slotted type riser type not hook type

Automatic or semi automatic

You only need to load and unload armature, other actions such as hooking, winding, indexing and cutting are wound by machine automatcially



Main data:
Wire diameter: 0.20~1.2mm
Armature diameter range:20~90mm
Armature stack length:10~130mm
Commutator diameter:8~60mm
Armature slot number:Odd, oven slot
Turns no.:0~99999
Flier fork speed:0~2000RPM
Indexing speed:0~2500RPM
Total power:4.5KW
Operation method:Step, Auto, JOG
Power source:AC380V 50/60Hz
Air source:5~7KG/cm2
Weight:850KGS
Dimension:1530mm x 1280 mm x 1650mm
The fully automatic Armature Winding Machine for slotted type commutator armature WIND-ST-TD2B is
not as easy as the hook type commutator armature winder WIND-STR, the armature with hook type commutator can wind the wire to different kinds of armatures easily and very mature since the first fully automatic winding machine was born in the year 1997.
In China, few motor making machines supplier have the ability to produce slotted type commutator armature winder, Wind Automation is one of the winding machine supplier can wind the hammer motor,
vacuum clearner motor armature with slotted riser type commutator successfully and with stable and continuous winding quality. Including China local motor manufacturers, Industrical City Monterrey motor making plants and so on.
Winding Machine Main configuration:
PLC: MITSUBISHI
Servo control system: Delta
Touch screen: MCGS7062KS
Pneumatic system: AIRTAC
Main electrical components:Korea and Japan
Tension :Hysteresis tension
Linear guide way: HIWIN
Safety door and feeding device: Pneumatic
Contact:Shanghai Wind Automation Equipment Co.,Ltd
Email: emily@motor-machinery.com
Skype: motor.machinery
Mobile: +86-18067425780
Website: http://www.motor-machinery.com; http://www.coilswinding.com